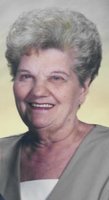 Rosa "Rosie" Teson
Watervliet – Rosa "Rosie" K. Aiezza Teson, 90, passed away peacefully at her residence on Monday September 17, 2018 with her loving family by her side. Born in Albany, she is the daughter of the late Pasquale Aiezza and Giovannina Tascione.
Rosie married the love of her life Joseph Robert "Teso" Teson on June 29, 1947. She was a true matriarch in every sense of the word. Rosie loved to cook and spend time with her family. She was known for cooking her pasta fagioli on Friday and her pasta on Sundays to feed any and all who stopped by. For Christmas Eve dinner Rosie cooked her famous 7 fish meal and the entire family and neighborhood would gather to celebrate, where she might be found using her favorite line "Shut up Bob!" Rosie will truly be missed by everyone who knew her and loved her.
Rosie is survived by her beloved husband of 71 years, Joseph Robert "Teso" Teson; her children, Sharon "Cissy" (the late Doug Smith) O'Connell, Joseph R. "Buzzy" (Jeanne) Teson, Jr., Mark (Susan) Teson, Patrick Teson, Michael Teson and Tami (Frank) Chrysler; son-in-law, Robert Butler; 17 grandchildren, 24 great-grandchildren and 5 great-great-grandchildren; her siblings, Andy Aiezza, Mary Triolo and Sal "Sonny" Aiezza. In addition to her parents, Rosie was predeceased by her daughter, Linda Teson Butler and her siblings, Pasquale "Patsy" Aiezza who was killed during WWII, Carmen Aiezza, Lucy Sheldon, Jennie Stumph, Anna Mottolese and Betty Holmes.
The family would like to extend their sincere gratitude to Rosie's special caretakers; Sharon "Cissy" O'Connell, Michael Teson, Tami Chrysler and Frankie Chrysler, Jr.
Those wishing to remember Rosie in a special way can make memorial contributions in her name to, Immaculate Heart of Mary Food Pantry, 2416 7th Ave. Watervliet, NY 12189
A Mass of Christian Burial will be celebrated for Rosie on Friday September 21st at 10:00 a.m. at Immaculate Heart of Mary Parish, 2416 7th Ave., Watervliet. Burial will follow at St. Patrick's Cemetery. Calling hours will be held on Thursday September 20th from 4:00 to 7:00 p.m. at Parker Bros. Memorial Funeral Home, 2013 Broadway, Watervliet.