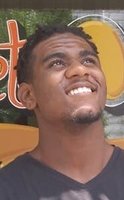 Noah D. "Chef" Williams
Troy – Noah D. Williams, 20, entered into eternal life on Wednesday July 17, 2019. Born in New York City, he is the son of Alma M. Williams and LaMarr A. Haynes.
Noah was a 2016 graduate of Troy High School and a standout athlete on both the Football and Track and Field Teams. He was a 4-year Varsity letterman for the football team and also threw shotput and discus. He worked for Dunkin Donuts in both Brunswick and Troy and was lovingly referred to as "Chef". Noah will always be remembered for his kind and generous soul and willingness to help others first. He was humble, smart and always had a smile on his face and a kind word for others. Noah will be sorely missed by his family, friends and anyone who was lucky enough to know him.
Noah is survived by his mother, Alma M. Williams; his father, LaMarr (Jan) A. Haynes; Grandmother, Phyllis Frazier; Great-Aunt, Gloria Pearson; Aunts, Cynthia (Mark) Williams-Dawkins, Julicia (Michael) Williams-Connor and Sherrill Frazier; Uncle, Demetrius Frazier; Sister, Larry'ce Haynes and his cousins, Andrea, Natasha, Malachi, Trevor, and Troy.
Funeral services for Noah will be held on Tuesday July 23rd at 12:00 p.m. at Simmons Funeral Home, 218 2nd Ave. Troy. Friends and relatives are invited to visit with Noah's family from 11:00 – 12:00 prior to the service.